Planning a wedding anniversary celebration on a budget? There's nothing more romantic than celebrating your wedding anniversary. It's a time to celebrate the love you share with your partner. But with the costs of everything on the rise, it can be hard to find a way to do so without breaking the bank.
Usually, the idea of celebrating a wedding anniversary involves spending a lot on an expensive restaurant dinner, traveling to another country or splurging on grand experiences like a helicopter tour or a Caribbean cruise.
But the reality is that you don't need to spend a lot of money to celebrate your love. Whether it's your first or fiftieth anniversary, we've got some ideas that you can consider where you can still have a great time even on a budget.
Just a disclaimer that the items on our list will still require you to spend some money. We believe that "on a budget" does not mean "no budget" at all. But don't worry, we have a variety of ideas that can suit different budgetary limits. And no, you don't need to flex your DIY skills with these practical yet enjoyable unique wedding anniversary ideas!
So if you are looking for some wedding anniversary ideas on a budget dive straight in.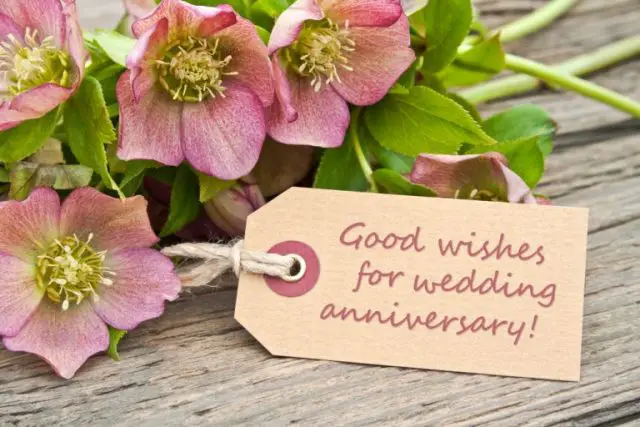 1. Themed Dinner At Home
If you're limited to spending your wedding anniversary at home due to Covid-19 restrictions, you can still turn dining at home into a special treat. One way to do this is to have a theme! A good theme idea is a place that you both love or would want to visit in the future.
For example, if your theme is "Midnight in Paris", cook (or order) French dishes, have some French wine, and play some La Vie En Rose in the background.
Choose a theme that is significant to your relationship. Let's say you spent your honeymoon in Mexico, have a Mexican theme by ordering from an authentic Mexican diner and recreating the drinks you had back then.
2. Romantic Picnic
You can't go wrong with a romantic picnic date on your wedding anniversary. It's about celebrating the love you have for each other and what better way than to spend time outside, in the sun, while enjoying delicious food?
3. Virtual Private Cooking Class
A virtual private cooking class involves booking an online class with a chef who will teach you how to cook a meal. You'll have to book this in advance and buy the ingredients before the class. Because these are online classes, they don't cost a lot. For example, a 1-hour virtual cooking class from Santorini, Greece only costs around $25!
4. Instagram City Tour
If you are a young couple who love social media, why not spend your wedding anniversary exploring the Instagrammable sights in your city? Prepare an itinerary of the most photogenic places and drive around to take great images for the feed! The best part? This does not cost a lot of money!
5. Beach Day Out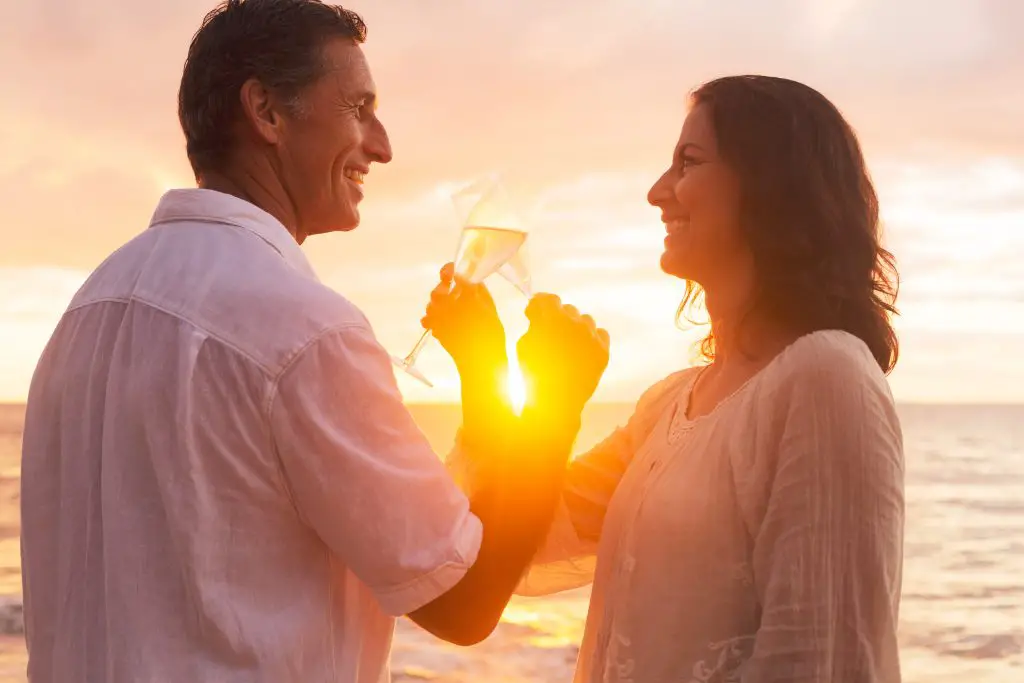 Imagine spending the day on the beach with your loved one. The sun is shining, there are no worries in the world, and you can just relax together as partners in life and love. Bring body oil and give each other massages for a relaxing day out.
6. Nature Tripping
Do you know that there are over 400 National Parks in the United States? Just a quick search online will tell you if you live near one. Exploring these national parks while breathing in the beauty of nature is a great way to spend the day.
If you are both active and adventurous, plan an outdoor adventure like hiking, trekking, or rock climbing. You can even try water activities like kayaking, canoeing, or fishing. This way, you can both enjoy the outdoors and have a fun day challenging yourself.
7. Camping Under the Stars
Go camping under the stars! Find a nearby camping ground, prepare some camping essentials, and pitch your tent! A great spot would be on top of a hill overlooking great views. And if it rains, well, that makes things even more exciting!
8. Food Truck Hopping
If you are both foodies, going on a food truck hopping tour is a perfect idea. When you go food truck hopping, you can sample delicious, creative, and unique meals available in your city. Map out your destinations and check out the menu in advance. Pick the food truck's best seller and just order one to share. A good idea is to have an appetizer, main course, dessert, and drink in different food trucks so you can sample at least four trucks in a day!
9. Local Wine Tasting
No need to travel to France or South Africa for a wine tasting tour. Many local restaurants and vineyards offer wine tasting experiences that do not cost a lot of money. A good tip is to check travel websites and discount sites for discounted deals and offers.
10. Bowling
When was the last time you visited the bowling lanes? You can have a great time as you watch each other bowl. It's also a great way to get some exercise while having fun. Check for deals and offers so you can save money. Booking a spot in advance is also a great idea to make sure you can be accommodated.
11. Indoor Ice Skating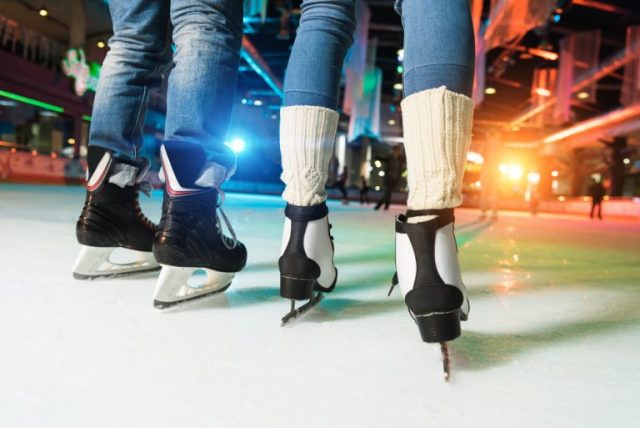 Whether you know how to skate or not, indoor ice skating will always be a romantic activity because it gives you an excuse to cling to each other! The best thing about this is that it won't cost as much as a Swiss ski vacation!
12. Theme Park
Going to an amusement theme park is a perfect way to bring out the child in both of you and enjoy yourselves for the entire day! If you're both thrill-seekers, go on some exciting rides. Otherwise, you can always go on a romantic ride on a Ferris Wheel and enjoy views from the top. Don't forget to enjoy the cotton candy, popcorn, and take some photo souvenirs.
13. Escape Room
Escape rooms are a new trend that offers an exciting and challenging experience. You will have to work together as a couple and find clues in order to solve puzzles, unlock doors, and complete challenges before time runs out!  This, however, is for partners who are not very competitive and just want to have fun. You don't want to be fighting each other because you did not manage to escape!
14. Paintball
Shooting paint at people may not be the most traditional way to spend your wedding anniversary but if you're the sporty type, this can be such a fun experience. The key to enjoying this is to make sure you're on the same team and not shooting at each other.
15. Art and Wine Session
The act of creating something beautiful while sipping on a glass of fine wine not only helps create memories but it also creates closeness between two people. Even if you're not very good at art, it's fun to laugh about how terrible your paintings look! Whatever the outcome is, this activity is something that you'll enjoy.
16. Bed and Breakfast Staycation
If you want to spend a night away from home (and the kids), booking a local bed and breakfast is another great idea. It gives you the privacy you need without having to spend on a posh hotel weekend. Many cozy bed and breakfast establishments are very affordable and offer personalized service.
17. Out of Town Road Trip
Road trips don't need to be hours and hours of driving. You can also explore nearby cities so you can have a change of scenery! But instead of pre-planning your road trip, don't plan at all. The excitement and anticipation of not knowing what you might find or experience can be very memorable.
18. Dolphin and Whale Watching Cruise
If you live by the sea, going on a dolphin and whale watching cruise can be an exhilarating and very memorable experience for both of you. In the U.S., these cruises cost from $20 to $50 per person. Some states where dolphin or whale watching cruises are available are California, Massachusetts, Hawaii, Florida, South Carolina, New Jersey, and Alabama.
19. Sightseeing Boat Cruise
Many couples dream of going on a cruise for their anniversary. However, these cruises often cost a lot of money. But do you know that there are sightseeing cruises that are quite affordable? Depending on where you live, you can find river or lake boat cruises that often last for 1 to 3 hours. The price of these boat cruises cost around $20 to $50 per person. While you still need to spend, that is way cheaper than going on a cruise to the Bahamas!
Enjoy Unique Wedding Anniversary Ideas That Are inexpensive
Celebrating your wedding anniversary does not need to be very expensive. But at the same time, you want to show your partner how special they are and how much you appreciate their presence in your life. Hopefully, our list of suggestions can inspire you on how to make your wedding anniversary a memorable one without draining your savings! As the saying goes it is the thought that counts and the more thought you put into planning a fun and memorable wedding anniversary celebration the more your partner will appreciate it, even if it was done on a budget.