When my husband and I started looking for a house, looking at different houses hunting checklists online made me wonder what is still missing in their list. Most of them either had too many details or not enough, so I created my own in Excel. You can download the Home Checklist and print it to help your own home search.
House Hunting Checklist made simple
Along with this checklist, which we attached to a clipboard, we brought a tape measure and a digital camera. The tape measure helped us complete some details and really assess whether the dining room or bedroom was large enough. The checklist ensured that we didn't forget details. The pictures reminded us of what it actually looked like.
Customizing your House Hunting Checklists
My house checklist is just a template. You may have other things that are more or less important to you. For example, I had to see a place in the kitchen where I could fit my stand mixer and it had to have a full-sized oven (as opposed to the tiny original oven common in 1950s homes.) We also needed a place to put the litterbox. You'd think that would be easy, but it wasn't in some homes.
Completing the Checklist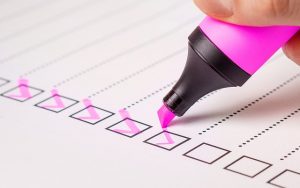 Once you and your real estate agent have compiled a list of homes, print out a checklist for each one. Before we left our apartment, I completed the address, asking price, neighborhood, square footage, and year built portions of the checklist.
Home Review
Once we reached the home, we walked through it and noted our observations. One of us held the clipboard while the other handled the camera. As we walked, we noted the size of each bedroom, the condition of the floors or kitchen, things that would need replacing or that we really liked. The checklist tended to be more complete in the early homes we looked at, and then on homes we really liked.
School Data
Before we even went to a house, I used the LAUSD's SchoolFinder search to verify the school associated with the house. If it wasn't on my list of preapproved schools, we didn't see the house. If schools are important to you and you live in an area of mixed school quality, investigate local schools when initially researching potential neighborhoods. I used GreatSchools.net to find test scores and student body profiles.
For us, the percentage of students receiving free or subsidized lunches or taking English as a Second Language were important factors aside from test scores. In general, I wanted to see an API average over 800, ESL ratio under 25%, and free lunch under 50%. I chose those numbers because I feel that students at schools with higher ratios will receive less educational support at home than my children will. Schools are personal decisions, so you should adjust these fields accordingly.
After we visited a house, I entered the current data on the checklist to make easier to compare potential houses.
Neighborhood Data
If we liked a house, then I completed the neighborhood data to make sure it met our other requirements. I used WalkScore.com to find nearby parks, libraries, grocery stores, movie theaters, book stores, clothing stores, etc. Then I used Cyberhomes.com for demographic data. The demographics helped us rule out a house when we discovered that there were more people in the 50-59 bracket than the 30-39 bracket, which was important to us.
I kept all of the checklists so we could go back and compare them, or to help us decide on an offer price. If we made an offer, I noted the offer price at the top of the form.
I'm an analytical person, so the House hunting checklist was important to me. You might not need to be as detailed. However, a home is usually an emotional purchase. Using a checklist helped us take some of the emotion out of the equation. Of course, a house could be perfect on paper and not set our hearts racing, but the checklist brought us down to earth when we were on the verge of falling in love with one that wasn't right for us.