I love ice cream in the summer. It's one of my top summer foods, but how much does it cost to make Ice cream? Unfortunately, I don't eat it often. Between lactose intolerance and the need to lose weight, I've got to control my cravings. So how much does ice cream cost? When I do want ice cream, I plan ahead and use my ice cream machine to make a fancy zabaglione version (courtesy of the Williams Sonoma Ice Cream cookbook). But you can make it anytime with just a few ingredients you have on hand.
Advantages of Homemade Ice Cream
Although it does take more work than opening a carton of storebought ice cream, it's worth it to make your own.
Homemade Ice Cream Is Cheaper
How much does it cost to make ice cream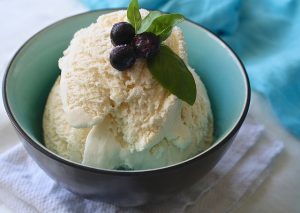 Well, to make ice cream at home, you'll need milk, cream, eggs, sugar, and flavorings. You probably have three of those on hand already. For lighter ice creams, you can skip the cream.
So, how much does ice cream cost? Well, here are my recent costs to make zabaglione gelato:
Sugar – $0 (had it on hand)
Milk – $1.69 for the quart. I used half in the ice cream and more in other recipes throughout the week, so let's call it 83 cents
Eggs – $1.99 for a dozen. I used half for the ice cream, so $1
Vanilla – already had it
Marsala – already had it
Cream – $1.69 for a pint. I used half for the ice cream, so 83 cents.
Ice cream attachment for Kitchenaid Mixer – free (Christmas gift).
If you don't have an ice cream machine, the Kitchenaid stand mixer attachment is about $70. You can also buy standalone machines for $20-$60. Or you can use a bag or a jar for free.
The total cost for 1.5 quarts of my ice cream: $2.66.
1.5 quarts of Dreyers ice cream: $6.49
1.75 quarts of Breyers ice cream: $4.99
1 pint of Ben & Jerry's: $3.00
You can buy a 1.5 quarts of store branded ice cream for just over the cost of my ice cream, but the taste leaves a lot to be desired.
If you opt to buy a machine, you will have the initial expense, but it will pay for itself in 2-3 years if you typically buy 5 containers of Dreyers ice cream a year.
Homemade Ice Cream is More Nutritious
Okay, there's nothing "nutritious" about ice cream. It's got fat and sugar in it. That's why it's a treat. But, you control the quality of the ingredients that go into your homemade ice cream. That means no chemicals, no preservatives, no ingredients you can't pronounce.
You Have More Ice Cream Flavor Options
Your store might be out of your favorite flavor, but you can make just about any flavor you want depending on what you have on hand. If you've got fruit that's about to go bad, or an overabundant tree, chop it up and stir it into the ice cream. Got leftover chocolate chips – add them to your ice cream. You might even combine the two. Making it yourself lets you create your perfect flavor combination.
I made mint chocolate chip once using real mint infused into the milk. I found it to be a bit woody, so I went back to peppermint extract, but I still enjoyed the ice cream I made, and the process of experimenting.
How to Make Ice Cream
If you have a machine, follow the instructions that came with it or use a recipe for machine ice cream. If you don't have a machine, these two Instructables show you how to do it step-by-step.
Homemade ice cream in a bag or jar 
Homemade vanilla or chocolate ice cream in a bag
Custard or Non-Custard Ice Cream?
I prefer to make custard-based ice creams because they're richer and creamier. They also take longer to make because you have to cook the eggs. If you don't want to deal with eggs, then look for a non-custard based ice cream recipe. It won't be as creamy, but it's quicker, cheaper, lower in fat, and still yummy. If you're ready for a real treat, my friend recommends Alton Brown's Serious Vanilla Ice Cream
Once you get used to making ice cream at home, you'll never want to go back to the storebought stuff. And why should you when making it at home is simple and cheap? If you've got a big freezer, you can keep your freeze bowl in the freezer at all times so you can make ice cream in a flash.