Is expensive furniture still worth buying or should you start looking for affordable furniture for your home? These days, quality furniture is easy to find and it doesn't have to be expensive. I tend to steer clear of the lowest quality furniture, such as the pieces found at Living Spaces and stores like it, but if you look carefully, you can find local stores that sell decent furniture at a decent price.
Where to Buy Affordable Furniture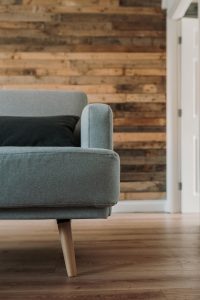 Pottery Barn, Restoration Hardware, Room & Board, and Crate & Barrel make lovely un expensive furniture, but at $4000 for a couch, it's not within my budget. Instead, I found a local place that makes knock-offs of their furniture for a quarter of the price. Sure, I had to deal with a random pirate-themed store and drive 30 miles to choose my furniture, but I also chose the style, size, fabric, leg style and color, arm shape, and a number of cushions for $700. It could have been more, but the fabric I chose wasn't very expensive. I got a faux-leather (it's fabric) for $1000. Compare that to $8000 for leather couches at some stores.
If you live close enough to a major metro, consider stopping in their warehouse district for deals on things like rugs, tables, and chairs. I visited downtown LA recently and scored two rugs for $240. (Bring cash and you'll get an even better deal. The sale may not be reported, but that really isn't your problem.)
Consider Coupons for Affordable Furniture
Believe it or not, some furniture stores do offer coupons. Check the ValPak or MoneyMailer envelope that arrives in your mailbox. During the slow season, I found a coupon for $500 off at a local sofa store. I've actually bought furniture there before, and it was good quality. The coupon was during one of the slowest parts of the economic recovery, so that maybe one reason, but I've also found coupons for furniture stores on Groupon, Living Social, and similar sites. There are coupons to be had if you look carefully.
Won't Cheap Furniture Wear Out Faster than Expensive Furniture?
Yes, probably. I don't expect my $700 sofa to last as long as a $4000 sofa, but I don't necessarily want it to. I have three cats. I'm hoping to have a baby. My friends and family have young children. Those three factors combined mean that my sofas and rugs will be trashed long before the cushions wear out! I did Scotchgard everything, but cat scratches, spit-up, and ground-up crackers will eventually wear down the couches. And then I'll replace them. Maybe my taste will have changed by then, so it will be nice to make a change without worrying about the money I spent.
If I were single, didn't want kids, and had no pets, I would probably be willing to spend more on expensive furniture, but cheap furniture gives me peace of mind. I want to enjoy my furniture, not worry about stains and wear.