Are you tired of getting your valuables wet in the rain? I know how this feeling can ruin your day, especially if you are bringing your laptop, books, and notes inside your bag. That is why when looking for a backpack, you must also consider whether it is made from waterproof materials or not. Skipping this feature on a backpack can do great damage to your things; therefore, make sure you get yourself and pack protected.
Some people opted for wrapping their valuables inside a plastic bag to keep it safe against spills or a sudden downpour, while others utilize a waterproof cover to protect their stuff; however, this will be time-consuming putting the cover on and off to access your stuff. Hence, the best solution for this is to look for a college backpack with waterproof features.
Meanwhile, people are also confused with the term waterproof and water-resistant since there are bags that indicate water-resistant while other packs are completely waterproof. Therefore, how do these two terms differ and which is better for sudden downpour? Well, let's find this out below.
Waterproof Vs. Water-Resistant: How Do They Differ?
If a backpack is said to be waterproofed, it means that you can submerge down the backpack in water without letting the moisture go through inside and wet the contents. To put it simply, a waterproof bag can survive heavy rains or you can pass through a waterfall, yet keeping your stuff inside the bag free from any wetness or dampness.
You'll know that a backpack is waterproof if they use coated zippers for closure since ordinary zippers have too many holes, which can go through your bag. Furthermore, they also used tightly-woven nylon for fabrics, coated with a durable water-resistant coating that can wick away moisture.
On the other hand, when you say that a backpack is water-resistant, it simply means that it can resist water-penetration to a certain degree. For example, a water-resistant bag cannot perform well in heavy rain since too much water can penetrate inside the bag. Therefore, water-resistant backpacks can only perform well in light rain or drizzle.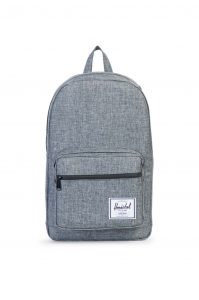 This waterproof college backpack from Herschel is made from polyester leather material and waterproof zipper closures that wicks away moisture. It has a 15-inch laptop pocket, which is padded for extra protection against bumps and other corrosion. It is perfect for every college student, who wants to assure that their laptop is always safe. This bag has a single compartment that consists of organizational compartments for storing notes, books, and other school essentials, aside from the laptop pocket.
Meanwhile, this bag also comes with an external pocket made from waterproof zipper closure, which is used to store smaller items such as your smartphone, iPod, keys, sunglasses, your school ID, wallet, and other important accessories. What I love most about this bag is its value for customer's comfort since it has an adjustable shoulder strap made with padded mesh to avoid shoulder and back strain to keep you comfortable throughout the day.
Photo by Herschel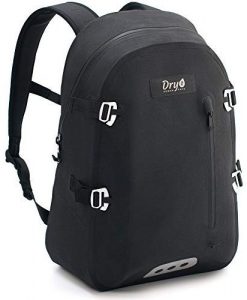 This backpack from ZBRO will guarantee you a 100% waterproof backpack because they will show you a photo of the ZBRO backpack completely submerged in the water, yet it is still completely dry. This waterproof backpack comes with a single compartment and an external front pocket that can hold up to 25L. Furthermore, they are equipped with airtight zipper closure; therefore, ensuring that no moisture will pass through this backpack. While other backpacks have a built-in laptop pocket, this ZBRO waterproof backpack offers you a different flavor since it comes with a removable laptop sleeve so that your laptop is still protected while it is outside the bag.
To complete this total package waterproof backpack, it comes with a soft padded back panel for comfort and avoids straining your back. It is also breathable; therefore, it will not trap sweat and moisture, which can cause your bag to become smelly. Overall, this laptop is a great choice for students who are also adventurous.
Photo by ZBRO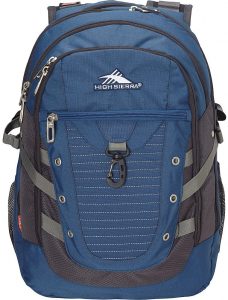 If you are looking for a versatile backpack, which you can use aside from school; therefore, this High Sierra Tactic Backpack is the right one for you since it can be used for traveling, hiking, camping, and other activities. Moreover, it has a perfectly built-in laptop sleeve that can house laptops up to 17-inch. Hence, this backpack is designed to be waterproof so that in the case of sudden weather changes it will protect your electronics, books, notes, and other things inside the bag from wetness.
This backpack comes with three major compartments and an external pocket for organizing other stuff. When you open the compartment, it will expand into multiple pockets for safekeeping smaller things such as your smartphone, wallet, earphones, and it has key fob for safe key storage. Overall, this laptop is an excellent choice because of its style, design, and materials.
Photo by High Sierra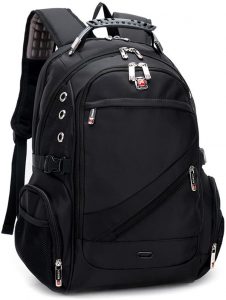 This backpack offers excellent support for safeguarding your laptop against the sudden downpour, spills, and bumps or corrosions. Well, thanks to its water-resistant oxford materials that make the backpack durable and can withstand any bumps protecting the contents inside safe and secured.
It has a roomy two compartments on which the top compartment can house a 15 to a 16-inch laptop and other accessories. You may also place your books, notes and other supplies alongside the laptop pocket. What I love most about this backpack is the water bottle storage found at the side pocket of the bag that keeps you hydrated all day long.
Photo by CLELO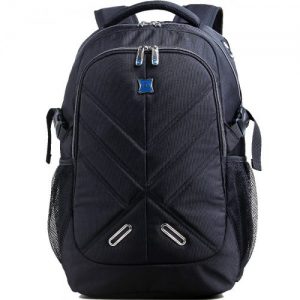 This Outjoy Laptop Backpack comes with three main compartments that help you organize your things. Therefore, let's start with the first compartment: the first compartment is where you house your laptop. This compartment has a padded laptop sleeve that can store up to a 17-inch laptop; hence, it also meant keeping your other school stuff such as books, notebooks, and other large things. For the middle compartment, it is equipped with a padded sleeve for your tablet, smartphone, and other smaller electronics. It has a small pocket and key clip for safekeeping car and locker keys.
To ensure that it is comfortable to wear throughout the day, it is equipped with a breathable back panel that keeps the back area of the backpack flat and soft that frees it from poking your back while you are wearing it. Moreover, it has a sternum strap that allows the distribution of load across your torso so that you will not strain your shoulder while you are carrying it.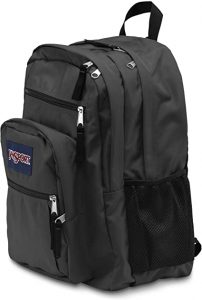 This Jansport Big Student Waterproof Backpack is perfect for everybody's lifestyle. It can be used at school, for traveling, and for short-day camping. It comes with two main compartments in which the top compartment is made with a soft padded laptop sleeve for laptop storage. The second compartment is used to store other valuables making things organized.
Aside from these two main compartments, it is also equipped with front utility pockets to keep your wallet, mobile device, iPod, and other small stuff in place. It also comes with water bottle storage placed at both sides of the backpack to keep you hydrated for a long haul.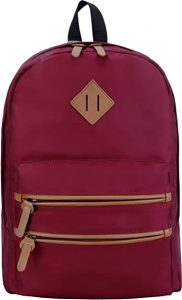 If you are looking for a simple, budget-friendly yet waterproof backpack, well, this waterproof laptop backpack from Gysan is the right one for you. This bag comes with a single roomy compartment made with a padded sleeve to house a 15-inch laptop and other school stuff such as your books and notes. It also comes with two external utility pockets that can be used to keep your smartphone and wallet.  Though this backpack does not have many features, it is still commendable for its durability and comfort because of the paddings placed at the back panel. However, some people complain that it is not breathable, and it makes them sweaty, especially during hot days.
Moreover, aside from the external utility pockets, it also comes with hidden zippered pockets located at the back panel for quick access to important stuff such as keys or some small cash.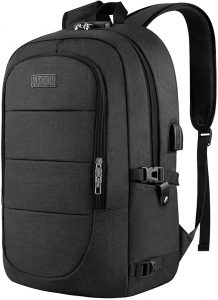 The AMBOR Backpack is known to be one of the best backpacks for college students with laptops because it is made with waterproof fibers that can keep the content of your bag completely dry even though it will be exposed to heavy rainfall.
This backpack is lightweight, which is perfect for college students that always bring heavy stuff such as books and laptop. Moreover, this waterproof backpack comes with a single compartment, which is padded with soft nylon fabrics to make it breathable and another external pocket for keeping other stuff such as wallet and smartphone.
On top of that, what I loved about this backpack is the built-in USB charger port that keeps your phone's battery always on the go. It also comes with an anti-theft feature for extra security for your precious electronics.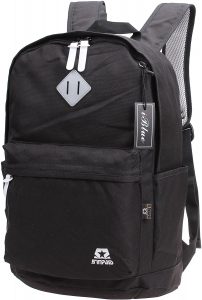 This casual looking backpack from iBlue comes with a single compartment that consists of multiple spacious compartments to keep your things organized. What people love about this backpack is that it is equipped with soft pads and deep airflow channels that promote comfort while carrying the backpack.
It also has an external utility pocket to store other small stuff such as your wallet and mobile phone. It is perfect for college backpackers since it is lightweight, highly durable, and waterproof, which satisfies all the list of your backpack needs. This backpack provides space for a water bottle and umbrella, well, thanks to its multipurpose side pockets.
Takeaway:
Aside from the comfort, the best waterproof college backpacks must be equipped with high-grade waterproof materials as well, so that it can protect the contents of your bag against accidental spills or from unexpected heavy rain.
Hence, the listed backpacks above are well-known for their waterproof feature, which can save for emergencies and can keep you comfortable for a long ha